How to Wall Mount an LCD or Plasma TV
Got that new flat panel TV?  Looking for one?  Where are you going to put it?
If you're like me and thousands of others, you know it would look good up on your wall. When I bought my flat panel plasma TV, I wanted the same thing.  In this guide, I'm going to show you how easily I mounted a Samsung 42″ plasma TV on the wall of my living room in just a few hours on a Saturday morning. This step-by-step guide will teach you how to do the same.
First, let's take a look at the before and after of what I'm talking about.
This is what my wall looked like in my tiny living room prior the installation of the flat panel TV.  To the left a tree hides the unsightly side of the TV from the view of those walking in the front door.
This is the same wall after my project was completed. Look ma, no wires.
It's all the in-between steps that make this happen!  Read on for how to do it right.
Selecting a Wall Mount for Your TV
You must either already have your TV or know the model that you're going to buy. It's very likely that the retailer you purchased (or will purchase) your TV from carries wall mounts. These are high profit items for the big box stores. Best Buy, for instance, carries a variety of wall mounts for flat panel plasma and LCD TVs, but they charge $200-$400 for them. Don't get suckered for these prices.  The wall mounts that these big box retailers sell are the same quality that you pay a fraction of the price at less expensive online retailers.
TV Wall Mount Guide recommends Cheetah Mounts from Amazon.com, which are very affordable flat panel TV mounts.  Cheetah Mount's Tilt TV Mount for 32-55″ Plasma & LCD best seller covers the most popular size range of 32″ to 55″ flat panel TVs.  Amazon.com also offers free shipping and a 100% money back guarantee on many of the TV wall mounts sold on the site.
For the price and service, you simply can't go wrong with buying a TV wall mount from Amazon.com.  You can view their entire selection of mounts in the Amazon TV wall mount category.
Popular types of TV wall mounts include:
You can click on the links above to go directly to Amazon.com, or you can continue reading our guide to Selecting a Wall Mount for Your Flat Panel LCD or Plasma TV.  Additionally, TV Wall Mount Guide has featured a guide to the different Types of TV Wall Mounts, which are mainly low profile, tilting and swivel mounts.
Tools for Mounting Your TV
To get started on this project you're going to need some tools to make it work right and keep that expensive TV up on the wall.  Here's the preferred set of tools to make the project go smoothly:
Drill and 3/16″ bit
Socket set
Tape measure
2′ level
Hammer
A few nails
Utility knife
Stud-finder (optional)
Getting Started
Plan for 2-3 hours to complete this job if you've never done it before. Likely, you'll be done in a little over an hour though – you just should budget enough time so that if you run into problems you'll be ok and you don't want to rush mounting your precious new flat-panel TV.
Open the mount and lay out all the contents in a place that's out of the way. Your mount probably included some instructions about how to proceed from here. If they're clear enough, feel free to follow them.  However, don't get your hopes up on those.
Find the Mounting Holes on Your TV
If you can't determine where you're suppose to secure the mount into the back of the TV, check your manual. Still yet, it's always a good idea to double check even if you think you know.
Now that you've found them, remove all 4 of them.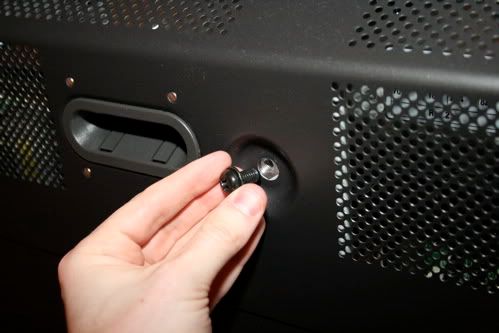 Notice that they're little nubs that only serve to cover up the mounting holes.
Find the Right Size Bolt to Secure Your Mount
Use the manufacturers screws that you just removed to size up the screws that came with your mount.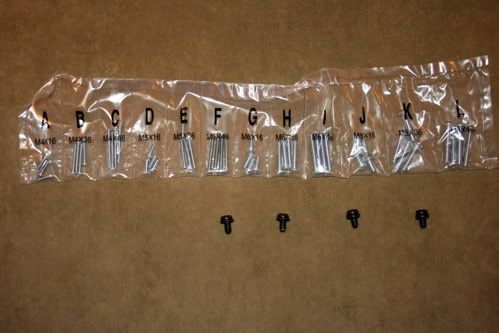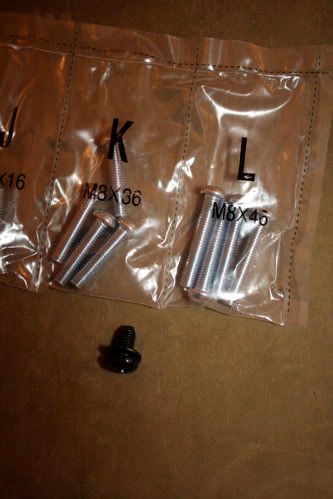 Once you've determined the diameter, grab one of the mounting brackets from your mount parts and hold it up to the TV to determine the length.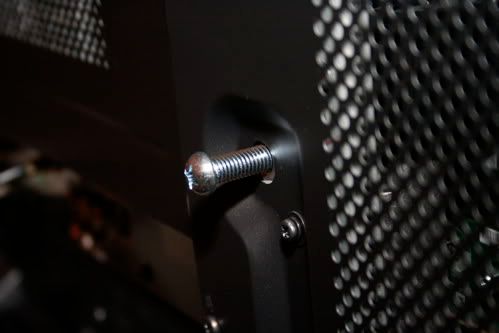 For me, one bolt was too long and one was too short so I had to make use of some rubber gaskets that were included in the mounting hardware.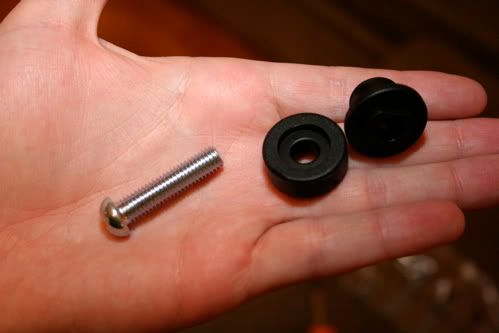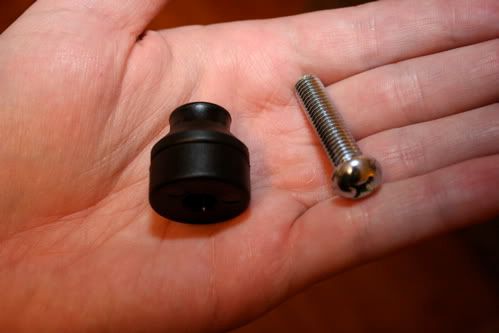 Secure the Mounting Bars to Back of TV
Use the bolts that you now know fit (and rubber gaskets if necessary) to attach the mounting bars to the back of the TV.  Go slowly! Don't strip any threads!
Start threading with your fingers and then when they get tight thread the rest of the way with a screwdriver by hand – don't use a drill or powered screwdriver here!  If you feel too much tension when threading it, back off, make sure you have the right size and try again.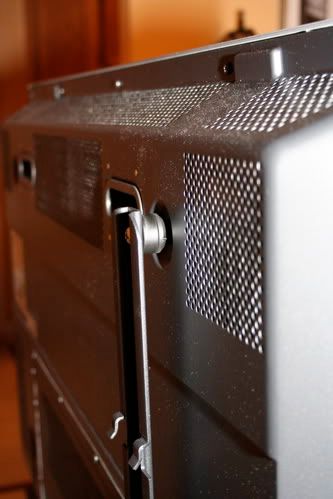 Attaching the Mount to the Wall

Now comes the fun part! I think that this was the most difficult part of the mounting process.
First, find the center of the wall and mark it with a pencil. Then determine how high that you want the TV to be and mark another point 5″ above that on the center-line and use a +/- 5″ reference for all your vertical measurements. This way, you won't see a pencil mark at the bottom of the TV after it's on the wall.
After you figure out where you want the TV, find some studs (perhaps this should be done first?). You can pick up a stud-finder at Home Depot or Lowe's in the $20 range – or just knock. The lower pitch thuds on the wall mean that it's hollow there and, therefore, no stud. The higher pitch thuds indicate you're closing in on a stud. Once you think you've narrowed it down and have found the stud, drive a nail partially into the wall (where the TV will conceal it after it's been mounted) to confirm whether you've found one. Once found, remove the nail and drive it in 1/2″ on either side to locate the center of the stud. You'll need to know where the center is because the lag bolts your about to insert need to be in the middle of the 2×4 to hold the TV on the wall. Now, pre-drill the center hole with your 3/16″ drill bit to prep it for the lag bolts.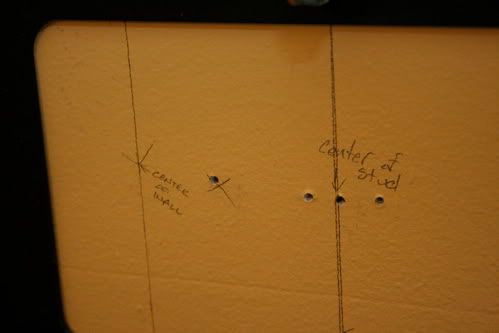 I mounted on an inner wall and the studs were 24″ apart, which proved problematic for centering the TV on the wall. I ended up 4″ off center because of this. Fortunately, the way my living room is arranged, it worked out. Consider this, however, when you are determining where you want to mount your TV.
Now, center the mount as best as possible on the location that you want to mount it. If your mount is like mine, there are several mounting holes spaced at small intervals horizontally across it. Once you've got it where you want it, either have someone hold it there or, if you're doing it on your own like me, drive a couple of nails into some of the mounting holes to hold the mount in place while you attach it with lag bolts. Remember, no one will see the nail holes behind the tv.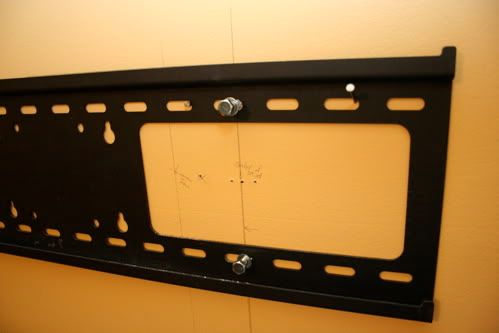 Confirm that your mount is level! You sure don't want your price flat panel TV to be crooked!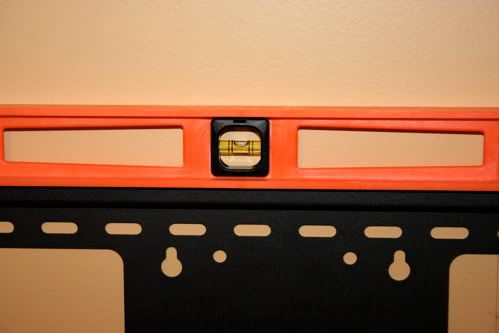 Now, drive those lag bolts in with a socket wrench. Get that sucker tight! If you're on the center of the stud like you should be you can really crank down on it. Give it a good tug when you think you're tight enough. Remember, it's going to have to hold anywhere from 60 to well over 100 pounds (depending on your TV size) for a few years!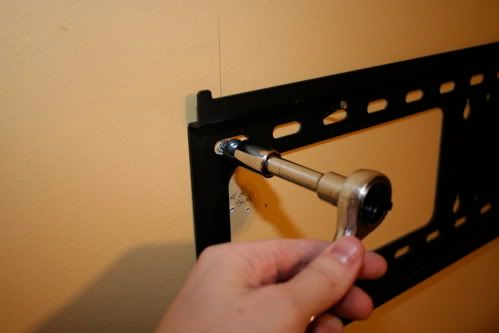 Hiding the TV Cables and Wires in the Wall

To get the wires from your TV on the wall to your cable box, dvd player, Xbox 360, PS3, etc., which are 2-3′ below it, you will have to cut some holes in the wall! Some folks say to use plastic molding to run the wire down and then paint it the color of your wall. Well . . . maybe . . . but that really looks tacky. Granted if you're in an apartment, you may not have a choice. But this is a breeze compared to the last step.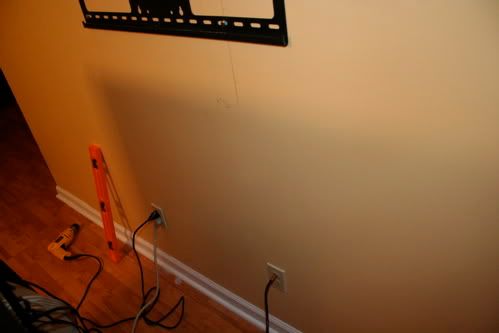 You can pick up some desk grommets at Office Max for about $5 to make this look cleaner. If you're planning ahead, Amazon's got'em too. In this mounting job, you can see that I used some that were 3″ diameter due to all the cables I needed to run.
Hold one up to the wall where it will be hidden behind the tv. Trace the inside of the grommet's hole with a pencil. Now, get your trusty utility knife and cut a hole where you traced. Take it easy and you'll have a nice perfect circle. Try the grommet in the hole. If it doesn't fit, trim the hole a little more – not too much though – you want that grommet to fit tight.
After you've done the top one, do another at the bottom and you're ready to run some wires.
Hooking Up the Cables and Wires
This part is pretty much self explanatory. Figure out the wires that you need or that you think you'll use soon.  Hooking up some extra HDMI cables won't hurt.  Drop the wires from the top to the bottom hole and pull them out at the bottom (don't let the top end fall down your hole though). This is where a 3″ grommet helps as opposed to something smaller.
Test Everything to Make Sure It Works Before Hanging Your TV on the Mount
Before you mount the TV on the wall, TEST EVERYTHING and make sure all your sources are hooked up the way you want it. When your friends go home you may end up in a pickle because you hooked up the red audio cable to your red component video plug on your Xbox 360 (just a hypothetical example, of course).
Find and Buddy and Hang the Flat Panel TV on the Wall
Don't attempt to solo this one. Bribe somebody if you have to. It helps to have 3 people. Two people will pick it up and hang it on the wall, while a third person kneels under the TV and gently feeds the wires into the grommet hole.
FINISHED!!!!
Sit back, grab the remote and pop in a Blu-Ray movie.  Enjoy your masterpiece and feel good that you didn't shell out $400+ for some underpaid kid from the Geek Squad to do a subpar job.  Congratulations!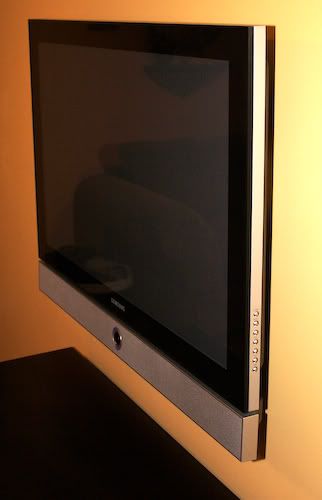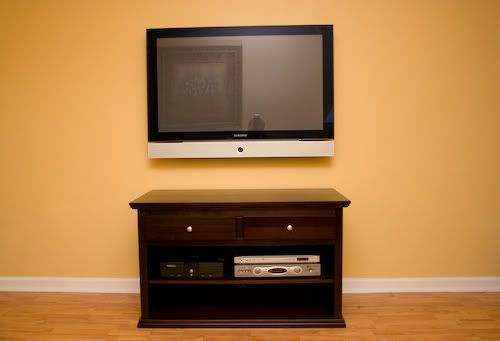 Find the right wall mount to fit your TV at Amazon.com.